Everything started with two exceptional persons. I have been following Zeger Van Hese (check out his twitter and blog) for some time now. Needless to say – during his talk at Testing Cup 2016 he gave me some inspirations for my first talk ever. I was aware of his art of sketchnoting – his pieces of art allowed me a glimpse at what are testers talking about during presentations at foreign conferences. I looked at this with admiration "Oh, he has so many talents!" and did nothing more.
But later on, during Romanian Testing Conference, I met Marianne Duijst (I highly recommend following her on twitter and her blog). She is a warm, passionate and highly multi-tasking person. I was happy enough to see her at Testing Cup, but due to my multiple roles, I was not able to talk with her ( 😦 ).
But it was after this conference when I saw her first ever sketchnote:
And I was like "Whoah, that is nice!". And again did nothing more than silent admiration. Five months later take a look at her amazing sketchnotes from Agile Testing Days: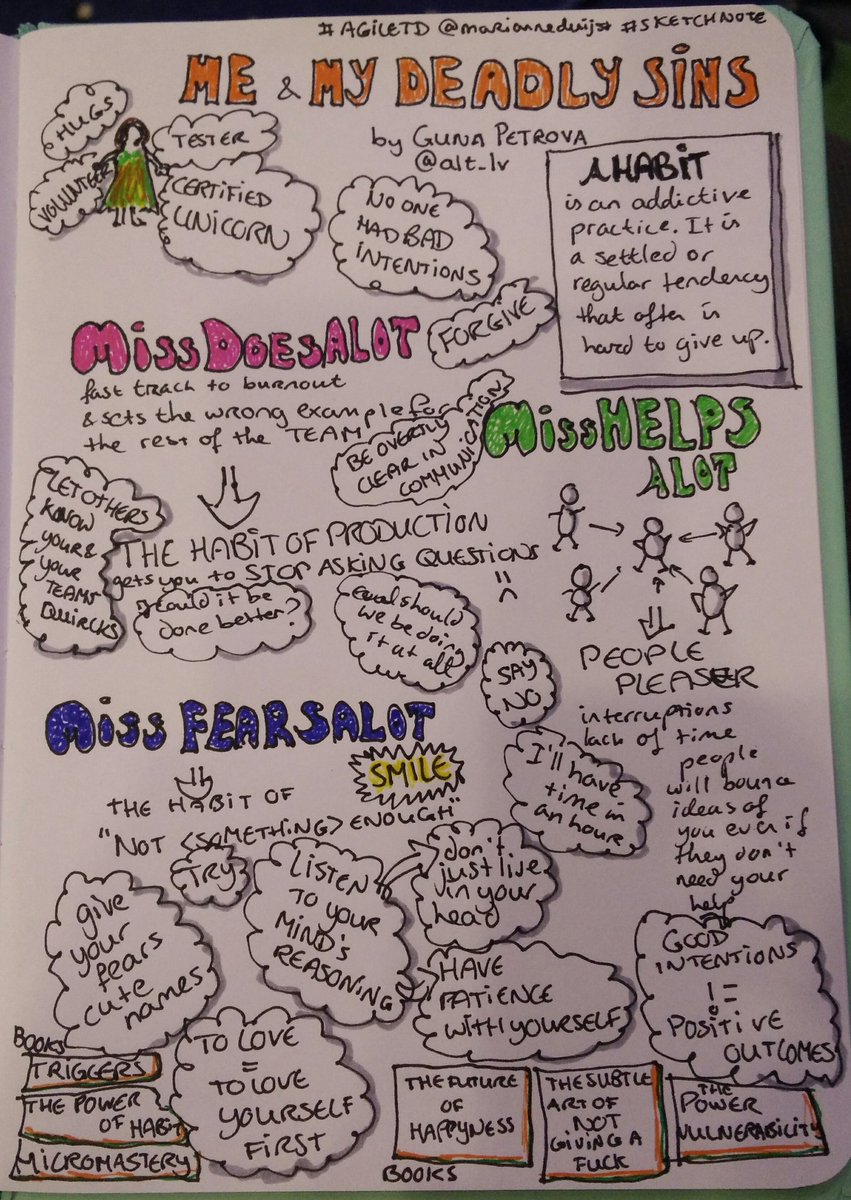 This was a time I decided to give it a shot and see how I will feel about it. Test Warez became my experimental training. During 10 sessions I prepared 10 pieces of papers filled with my notes and drawings:
Summary
After two days of Test Warez conference, I have many thoughts in my head. Mainly they are the benefits of sketchnoting:
I am more focused on presentation (instead of looking at phone I am drawing, so my thoughts are still "around the topic"),
I can translate instantly from Polish to English for sake of notes,
I have more notes than ever,
I have better memory of what was said,
It is easier for me to look at them and remember what was the topic about,
It is easy to share my sketchnote and give others the idea about what was the presentation about,
It is the perfect feedback for the speaker – what parts stayed with me, how I understood that.
I still need some practice and improvements. I found out that :
Pen isn't the best tool (marks on my hand and around the paper)
I would love to have some more colors on my sketchnotes. Not too much, just some. At least two.
Include creators twitter 😉
I know that sketchnoting isn't for everyone, but I would recommend everyone to try this out and see how it feels 🙂
Bonus
Best ideas usually come to me when I am going to sleep. This was no other. So while trying to get some sleep before "The Big Day" I thought to myself:
"What I would like for my attendees to have on their sketchnotes?"
So I prepared one:
This little thing allowed me to:
Summarise the key takeaways from the discussion panel,
Put everything in some order and reference,
Have a piece of paper to verify if I stood up to my promises.
I think I will do that with my every presentation from now on.